BASTA Holiday Gift Box 🎁
Indulge in the true spirit of the holidays with the meticulously curated BASTA Holiday Gift Box. Designed for the discerning gourmet lover, this exclusive box is your passport to a delectable festive journey. Whether it's a treat for you or a special gift for a loved one, each component of this box promises a burst of flavor and a sprinkle of joy.
Inside Your Box:
BASTA "Stella" Private Reserve Wine: Elevate your holiday celebrations with two bottles of our premium Stella wine, one red and one white. Carefully selected to offer you the finest taste.
Homemade Sauce Jar: Choose from our range of exquisite sauces, each prepared with love and the finest ingredients. Options include Black Truffle & Mushrooms, Arrabbiata, Ragu Toscano, Pesto, Quattro Formaggi, and Pomarola.
Fresh Pasta: Complement your chosen sauce with a package of our fresh pasta, delivering the authentic taste of Italy right to your plate.
Homemade Biscottis: Dive into the crispiness of our homemade biscottis, a perfect treat to enjoy with a cup of coffee or tea.
$25 BASTA Gift Certificate: Because we believe in spreading the love! Use this on your next visit or gift it to someone dear.
Add A Personal Touch: Make your BASTA Holiday Gift Box even more special by adding:
BASTA Extra Virgin Olive Oil & Balsamic Vinegar Set ($30): Elevate your culinary experience with our premium olive oil and balsamic vinegar.
BASTA Apparel:

T-Shirt ($25)
Sweatshirt ($35)
1/4 Zip up Sweatshirt ($45)
Buy Holiday Gift Box
Gift the taste of BASTA this holiday season. Whether it's the intimate joy of a dinner for two or the merry chaos of a family gathering, the BASTA Holiday Gift Box ensures the taste of authenticity in every bite. Celebrate the flavors, celebrate the season!
Recently featured in the Los Angeles Times
Basta is an authentic Italian restaurant in Agoura Hills. Our dishes always use the freshest ingredients, and everything is made in-house for a truly original experience.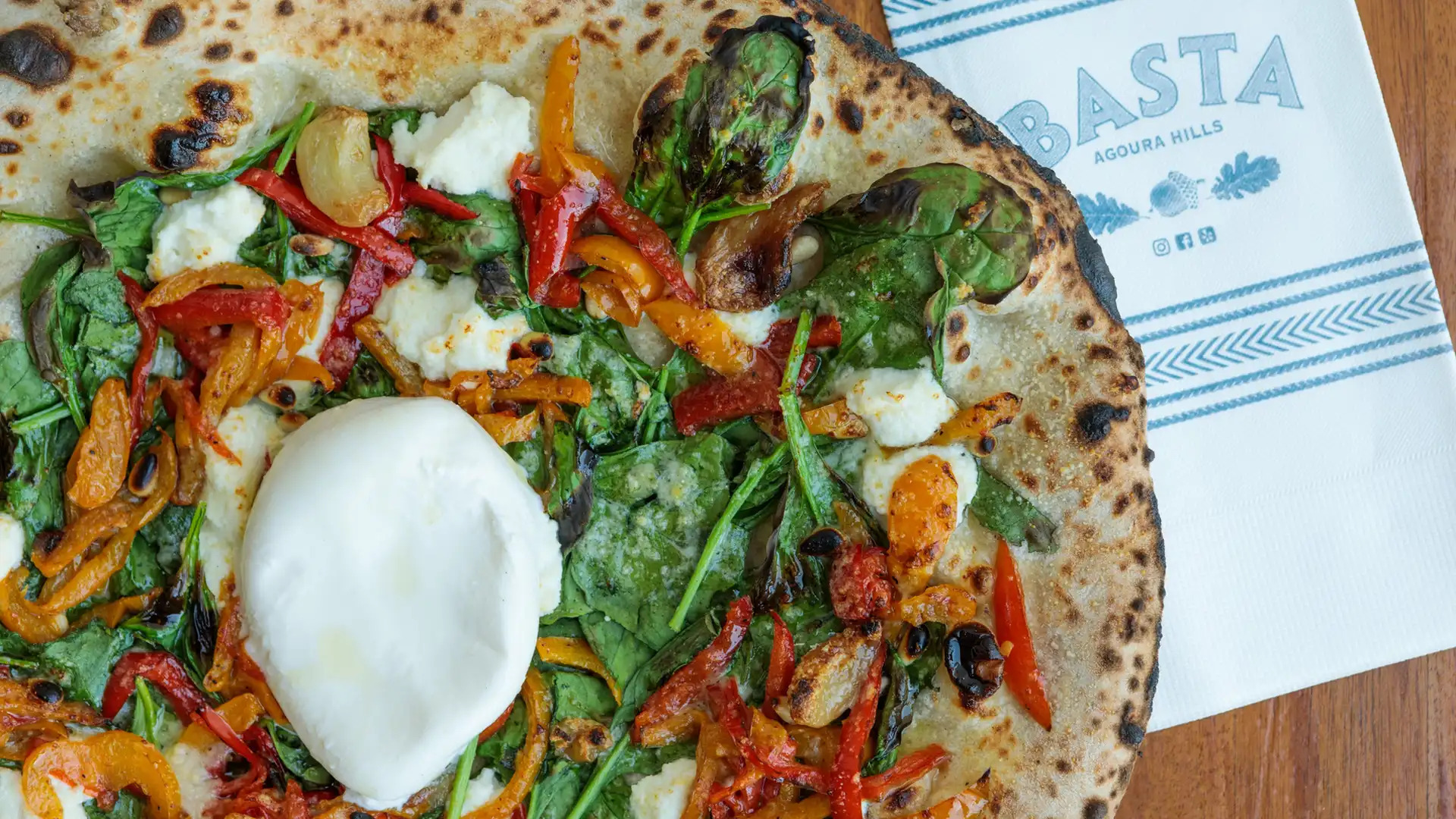 Come experience Italian dining like never before.
Our dishes always use the freshest ingredients, and everything is made in-house for a truly original experience. We're passionate about providing an authentic Italian dining experience, and our talented chefs work hard to create memorable dishes that will leave you wanting more. Whether you're looking for a romantic evening out or a night with family and friends, Basta is the perfect place to enjoy some of the best Italian food in town.